Click here for sample itineraries of our tours in Egypt
Honeymoon in Greece and Egypt
Dear Fatima, Omar, and Travel In Style Staff:
We had such a WONDERFUL vacation that it has taken us more than a week to stop feeling sad about our return home and to regular life. 🙂
From the moment we passed through customs in Athens to the moment we passed through passport control on our way out of Cairo, Josiah and I were treated with the utmost care and respect. Our transportation service was wonderful in all locations, and all representatives from Santos and Sakkara were quick to answer our questions and provide any additional information or services we required.
Our accommodations were top-notch (we especially loved the view from the rooftop of Hotel Stanley in Athens 🙂 , and our guides were always informative and personable.
We cannot say enough good things about our trip--it is something we will remember forever. If you are interested, please feel free to look over our pictures at
www.charlesrae.net
.
Thanks to everyone at Travel in Style who helped to make this trip such a success!!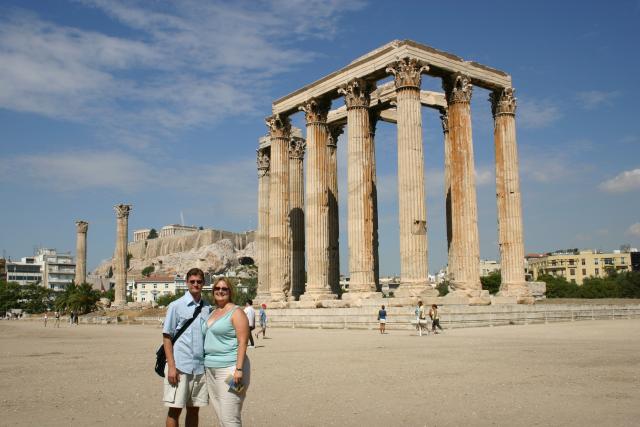 Egypt and Morocco Tour

Sent: Friday, May 16
Subject: Recent trip

Hello Omar and Fatima,
Well, we arrived home from Cairo last week Friday and I want to let you know that our trip was fantastic! We were always well taken care of, and truly traveled in style!! All of our guides and drivers were great - Aziz in Morocco, Sam and Asharaf in Egypt. Michael, the local representative in Cairo, was extremely helpful and professional. My Mom's luggage was lost somewhere between Marrakech and Cairo and due to Michael's diligent efforts, it was returned to her on our last day in Cairo. We felt that if it wasn't for Michael's constant attention and follow-up, she may never have had it returned. Our Cairo driver, Badr, was amazing in the crazy traffic and we always felt safe. Thanks again for your suggestions and the interesting itinerary that you created for us. The hotels and Nile cruiser were also wonderful!

Sincerely,