Click here for sample itineraries of our tours in Egypt
Hi Omar
Bad woman that I am, I forgot to say an enormous thank you for sorting a hotel in Cairo so quickly. I love flying into Cairo seeing the city below. Its beautiful. Please pass on my thanks to your local rep. who was wonderful. What lovely people they all are both in Cairo and Luxor.

The Amarco Nile Cruise crew are exceptional people. Absolutely nothing was too much trouble. I go on a Spanish boat every year and hate garlic, peppers and spice!!!!!!!!! The restaurant manager and chef go out of their way to give me my plain, plain meals and never complain. I love them all.

Once again, thank you so much. I'm already planning my next year. Maybe I will go to Alexandria for a few days. I've never been there. We will see.

Have a good year. Love to you and your family. See you about November.
Ron and Deepti: Egypt and Greece
Please click here for the photo Album
(A sincere thanks to Ron and Deepti for allowing us to link to their vacation photo album)
For those of you considering booking your next vacation with travelinstyle.com, I have broken down my feedback into each phase of the vacation to Egypt and Greece that my wife and I took this past summer.
Initial planning: I probably exchanged 50+ emails with Omar during the planning phase. At this point, we hadn't booked a trip or paid any deposits. Omar was very prompt and professional in providing advice and answering our many questions. When we travel to distant lands like Egypt and Greece, we really try to maximize our time and make the most of the experience. Omar provided the details we needed to plan a fantastic vacation and he also steered us away from ideas which his expertise told him would adversely impact our journey (i.e. if you take the overnight train from Cairo to Luxor, you will not get a restful sleep and will be worn out the following day).
Pre-departure: Omar advised us on the timing to seek travel visas, he assisted with finding the most convenient flight options, and calmed all of our pre-trip 'jitters' about what to expect upon arrival. We received detailed itineraries, packing list guidelines for our desert safari, and all vouchers required for our hotels, cruise, and tours. This was by far our most complex itinerary and everything was managed flawlessly.
While abroad: Our trip consisted of 11 individual flight segments through 3 countries, a 5 day cruise, a 2 day bus tour, a 2 day desert safari, and countless shuttles, transfers, connections, taxi rides, and horse drawn carriages. Travelinstyle serves as the hub and coordination center for all the local guides, Egyptologists, and other service providers on the ground. Having to worry about all of the details of the trip would have been a lot of mental stress that we didn't need or want while on vacation. We were very happy with the decision to leave this to Omar and the experts at Travelinstyle. The local guides took great care of us and went out of their way to ensure that we enjoyed the trip.
Egypt is a wonderful place and full of history, culture, and adventure, but it can be quite overwhelming for American or travelers more accustomed to the US or Western Europe. Not all destination require such coordination and planning, but if you are considering a journey to Egypt, I would highly recommend that you connect with Travelinstyle.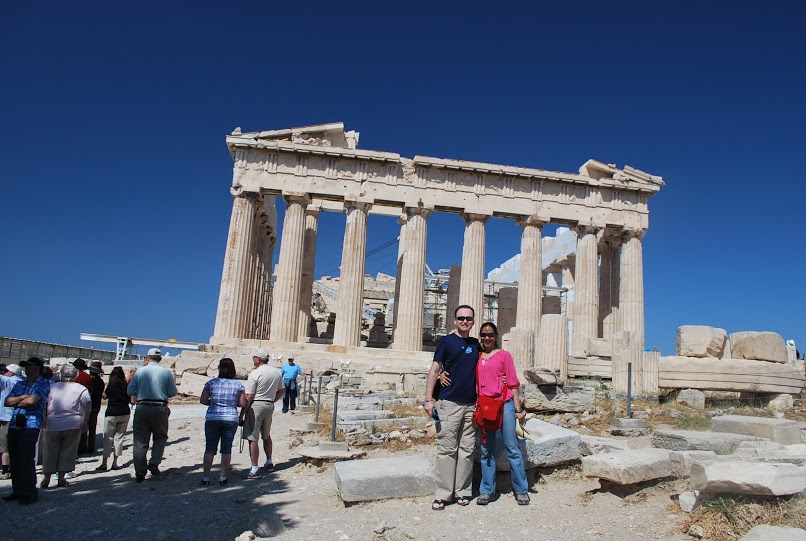 Click for images for Ron and Deepti 's vacation in the magic world of Greece and Egypt