Click here for sample itineraries of our tours in Egypt
Subject: Re: Our trip- What a great shot - Can we post it on our web site
You can certainly use the photo but you must give the credit to the guys with the camels. They took the shot.
We are still having a wonderful time. We are now in Aswan. We went to the light show at the Philae Temple tonight and it was wonderful. Our guide here is Ali Amer. He has been very good. This is truly the trip of of a lifetime.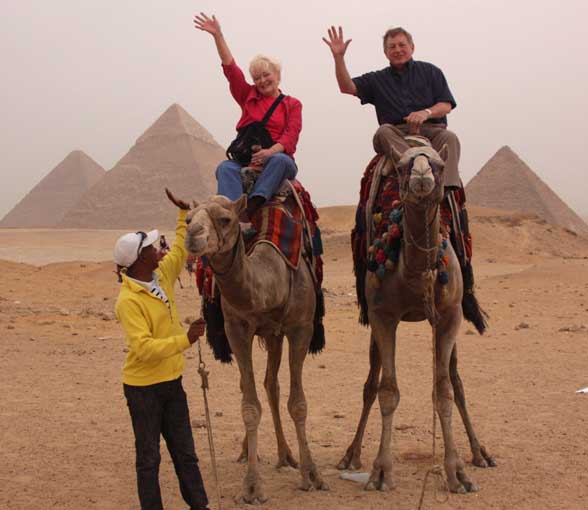 Dear Omar,
We got home last night after a WONDERFUL time in Egypt!

Thank you so much for all your help in setting up this trip. The people were great and we thoroughly enjoyed the whole trip. Great weather, except for a little rain in Cairo, but not enough to be a problem. Cruising the Nile is unforgettable--I think I spent more time on the top deck than anyone else on the Monaco Nile Cruise, not missing a minute of watching the scenery and enjoying the warm air and sunshine. My dream now is to cruise from Aswan to Abu Simbe! Tom will of course be in touch with more details, but I wanted to send my personal thanks now. Thank you also for the lovely cartouches. They are wonderful souvenirs for all of us.

Today is is cold, wet, and windy, and I long to be back in Egypt and for the sunny days we had.

Shokran!