Click here for sample itineraries of our tours in Egypt
Egypt and Nile Cruise
November 3-14, 2010

I went on line to look for a trip to egypt with a nile cruise included-- for my self and My daughter. I researched other groups, agencies and tours and then went to Travel in Style where it became evident Travel-in-Style had the most to offer for a very competitive price and we were even able to customize the nile cruise boat we wanted to go on and got to include all the tours and sites we wanted to see.

We got everything we wanted for our trip from Omar for the 12 day egypt and nile cruise - that others agencies and groups did not even offer.

Omar is the best!!! I have used other agents for other trips to the caribbean and europe previous to finding Travel in Style but travel in style stands up to what they say online and really does make your trip "traveling in Style" PLUS!!!

We were pampered, taken care of and informed day to day on what to expect on our trip , We were escorted every where and got a private guide and car for all our tours which is more than worth the money we spent.
The tours we went on in luxor, aswan and cairo were wonderful and egypt is more than exciting.

Omar told me what to expect and once we were greeted at the airport we were never left on our own to wonder what next? because at each day of our trip or tour and on the nile cruise , we were met, escorted and informed of what they were going to do in the most polite and expedient way and we were treated with respect and our every need was met.

We visited the pyramids, the sphinx, the egyptian museum in Cairo, Sakkara, memphis,and then also booked the nile cruise on the sonesta moon goddess which started in luxor where we flew to and in luxor -- we went to the luxor museum, valley of the kings and queens and along the nile cruise we went to the kom ombo temple, edfu temple.abu Simbel ,the Philae temple ,abydos temple and Dendera temples.We had a private felucca boat trip and I don't think we missed anything there is to see or enjoy there in Egypt and we ALWAYS FELT SAFE and comfortable.

So if you want a wonderful trip and a care free one that is all planned ahead and includes all the details you can possibly think of, then go to Omar and Travel in Style. Pamper your self with this agency who will cater to all your needs.

I cant say enough for Omar and Travel in Style so no matter where your trip is planned for === you can look all over but you will end up with Omar because you will find he goes above and beyond and there were even wonderful surprises we didn't expect so expect to be pampered and you wont be disappointed.
Vishal and Tina's Honeymoon in Morocco and Egypt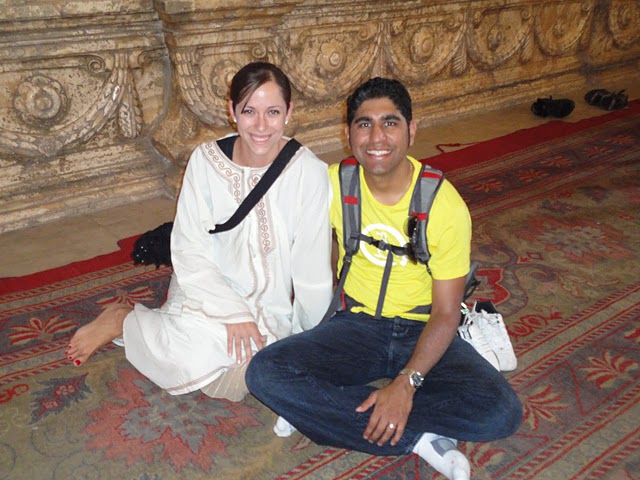 Vishal and Tina at the Alabaster Mosque in Cairo On their Honeymoon in Egypt and Morocco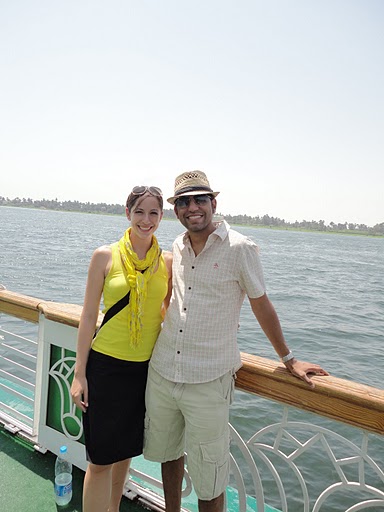 Vishal and Tina on board the Nile Cruise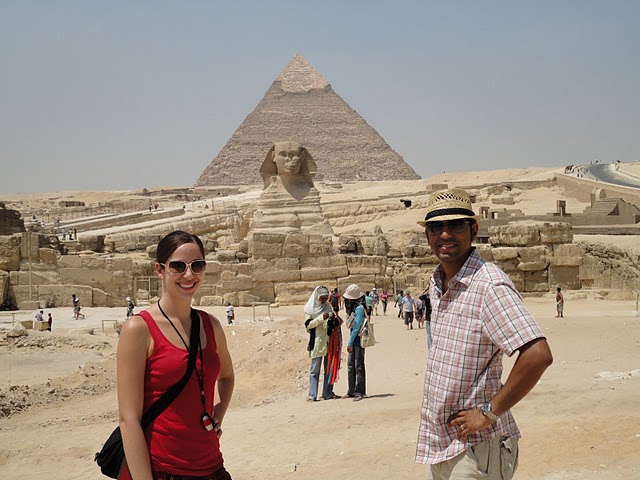 Vishal and Tina in Giza with the Pyramids in the background
Click here for the Honeymoon photo album for Vishal and Tina